by ASIFF HUSSEIN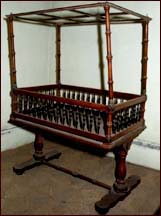 Little is it known that Sri Lanka's Dutch heritage still exerts a considerable influence on our national life. Whether it be in the spheres of law, language or cuisine, Dutch influence is still considerable despite the fact that the Hollanders left our golden shores centuries ago.
Their sway over the country's maritime provinces from 1658 to 1796 is however reflected not only in Roman Dutch Law, culinary fare and numerous loan-words of Dutch origin, but also in tangible artefacts, the relicts, so to say, of Dutch rule in the island. Whether it be grand old buildings with gabled roofs, rounded pillars and spacious verandahs, sturdy furniture that has withstood the test of time or the large assortment of copper coins with their characteristic VOC monogram, the remnants of Dutch rule are here to stay.
Vintage Dutch
The Dutch Period Museum in Prince Street, Pettah is certainly a museum with a difference. Housed in a palatial two-storeyed Dutch townhouse with a spacious central courtyard said to have belonged to the Dutch Governer Thomas Van Rhee, the museum exudes an old world charm that is typically vintage Dutch. Take for instance, the large collection of antique furniture displayed here. Be it an ebony couch, calamander chair or satinwood almirah, they reflect an age known for its charming simplicity , the result perhaps of the Hollander's austere Calvinism. Equally fascinating one would find a crib of ebony, bedstead of jakwood and a writing table with drawers made of Nedun wood.
The Dutch weaponry include a canon and a few swords and is not all that impressive though the glassware on display here is certainly very striking. Especially fascinating is an old handpainted glass depicting a mother and child attended by a midwife in an assortment of colours including red,green,yellow,purple and gold.
Beholding this one cannot help but feel being transported back in time, the effect perhaps of the figures and the unique medley of colours. Besides this is a handpainted plate depicting a couple in typical Dutch attire, the man with trousers and coat and the woman with a bodice and long gown. Here one would also find a unique silver box depicted with playing scenes. A Dutch poem on the lid reads "An excellent horse, a beautiful wife. Both cost me a lot of money to keep alive". Certainly a genuine specimen of good-hearted Dutch humour.
Culinary delights
An important area in which the Dutch influenced local culture was in the art of cuisine. Their culinary delights like lampreis, broeders, poffertjes, frikkadels and koekjes were extremely popular among the Sinhalese of not very long ago and one still finds food items such as lamprais, bruder and kokis figuring in the local diet.
It is not surprising therefore that the exhibits on display should include a broeder pan used for making that delectable Dutch cake, the broeder which is still made in the Netherlands, especially Hoorn where the best broeders are said to be found, filled with raisins and a mixture of sugar,treacle and cinnamon.
Also on display is a poffertjes pan with moulds of various shapes like heart, crescent and diamond used for making those light dough fritters known as poffertjes. Other household items include an old and cumbersome strijkijzer or smoothing iron which the Dutch introduced into the country and from which the Sinhala istirikkaya takes its name. Other miscellaneous items include a brass powderflask depicting a hunting scene, a brass flowerholder, a brass waterjug and a brass kettle.
Old tombstones
Among the exhibits bearing the characteristic VOC monogram of the Verenigde Oost-Indische Compagnie or Dutch East India Company which ruled the colony on behalf of the Stadholder of Holland may be included a large bell dated 1768 manufactured by a local artisan named Vishvakula Rajapaksha Vidane, a blue and white Chinese porcelain plate and a large collection of rare copper coins. These include VOC copper duits minted in the Netherlands and from states such as Zeeland, Friesland and Gelderland. Besides these are to be found VOC stuivers, silver rix-dollars,fanams and larins or fishhook coins used during the Dutch period. Last but not least must be mentioned the old Dutch tombstones in the 'Hall of Death'.
There are as many as 34 such tombstones, the majority of which belong to Dutch officials or their wives. The vast majority of them have a crest of skull and bones as a symbol of death above the epitaph which begins with phrases such as Hier Rust (Here Rests) or Hier Lijd (Here Lies) followed by the name of the deceased, date of death and the age including not only the years, but also the months and days.
Sunday Observer