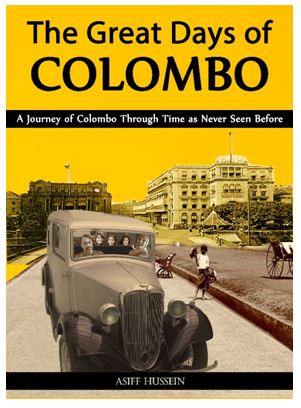 A Journey of Colombo Through Time As Never Seen Before
The Great Days of Colombo is by far the most comprehensive book on the City of Colombo, for long the grandest metropolis in the far-famed island of Ceylon, now Sri Lanka.
This profusely illustrated and compelling work tells the story of how Colombo originated from very humble beginnings as a simple Moorish port to become what it is today, a bustling city full of life and colour.
The evolution of the city is traced in much detail and its rich history vividly described replete with stories of war and horror and pillage that followed in the wake of European colonialism only to be followed by its rapid rise under Western domination. Colombo was in a sense a meeting point of East and West and a melting pot which attracted peoples of many nations to come hither and call home. The story of Colombo is in short the story of a modern nation in the making. The Great Days of Colombo brings this out vividly.
Besides the city as a whole, the book focuses on each zone of Colombo dedicating a chapter to each, covering the growth and evolution of that particular zone over time. Among other things, it traces the origins of place names and street names and covers the main landmarks of each zone as well as businesses and prominent residences. Boxed portions in each chapter bring out the most interesting facts and facets of Colombo that should interest the reader.
The work is profusely illustrated with over 800 rare, vintage monochrome and colour photographs including by renowned photographers LIKE Stephen Owens and Dominic Sansoni, numerous sketches, paintings and artists impressions that add to the great story that is Colombo.
Published by Neptune Publications (Pvt) Ltd. Sponsored by Expolanka Holdings PLC
Price Rs.7000
TESTIMONIALS
With its 21 chapters spread across 800+ pages, and with Asiff Hussein at the wheel, this is a journey I don't want to end. As a Wellawatte Boy myself, having grown in the little sandy byline that (still) connects Lily Avenue and Collingwood Place in almost the entirety of the 1970s decade, I'm going to luxuriate in a slow ride in this "journey of Colombo through time as never seen before".Let me meander through the nooks and crannies of time and soak in all that the capital city unveils and reveals through the author's brilliantly crafted tome. I'm deliberately not rushing this read. I want to savour each page. I might probably complete it by Christmas this year. That would be joyous indeed.Cant wait to dive into it. This (very heavy) book is a MUST HAVE !!!
The Great Days of Colombo is a must read book for anyone who has grown up in what was the capital city of Ceylon, as it was then called. It is a 3 kg tome with over 800 pages of information and loaded with hundreds of photographs. It' a journey of a beautiful city from its early origins up to the present day. Each chapter is dedicated to an area of the city which is described in rich detail. The author, Asiff Hussein, has meticulously detailed all aspects of the city and its environs. Gems of information, such as the naming of Duplication Road (meant to duplicate Galle Road), are scattered throughout the book which brings it alive. Anyone who has an interest in Ceylon must know that Colombo is the beating heart of the country and this book does justice to it.
George Pereira, Pickering, Canada
A wealth of knowledge and reminiscence for those who were born in Colombo, years prior to transformation. The familiar sights and scenery which hold dear to all of us, who grew up and lived our whole lives in the Big city. I'm sure there would be many who can recall the famous landmarks. Thank you Asiff Hussein for that trip down memory lane. A well worth investment.Thank you for your untiring effort.
The start of the another exciting journey and many thanks to Asiff Hussein for his untiring efforts in bringing the story of Colombo to life!
The Great Days of Colombo: The Story of our Bustling City
Asiff Hussein Interviewed by PULSE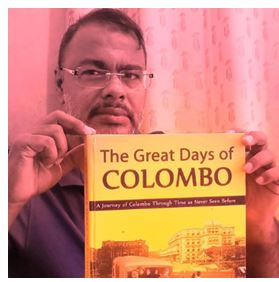 Question: Tell us a bit about your journey as an author. What role has your background in journalism played in this journey?
Answer: I guess Journalism and authorship go hand in glove. Journalism is something I had a passion for ever since my young days. The adventures of Tintin which I loved as a kid must have had something to do with it I guess. When I enrolled for a Diploma in Journalism and Aquinas College while still in my teens I was fortunate to have that doyen of journalism Reggie Michael to lecture and mentor us. What a man. He taught us the basics from which we could build up a career, simple things like "Facts are Sacred but Comment is Free" and "A Picture is Worth a Thousand Words". Simple things but very impressionable on a young mind.
I joined the Sunday Times as a cub reporter and since they only wanted somebody to cover their business stories I had to do with that, but the Business Desk was actually a very happening place and I soon got used to it, covering product launches mostly in the evenings at the big hotels in Colombo which gave occasion to meet up with journalists from other papers including my twin brother Asgar who later took over as Business Editor of the Sunday Leader and enjoy some great food among other things. Looking back those were wonderful times indeed.
As time went by I took a keen interest in Sociology and went for a BA Degree in Social Sciences at the Open University of Sri Lanka and before long I released my first book 'The Lion and the Sword'at The Royal Asiatic Society which despite its seemingly jingoistic title was actually a detailed study of our country's peoples and languages, which I later expanded on and retitled as Zeylanica; A Study of the Peoples and Languages of Sri Lanka. Other books followed including Sarandib. An Ethnological Study of the Muslims of Sri Lanka, the most comprehensive study of our country's Muslims;Caste in Sri Lanka, again the most detailed study of our country's caste system; and IvillyPevilly. The Gastronome's Guide to the Culinary History and Heritage of Sri Lanka to make a good job of which I did a Post-Graduate Diploma in Archaeology offered by Kelaniya University, for the simple reason that I wanted to be thorough with the food habits of prehistoric man. I subsequently released two more books Mystique Island about the unsolved mysteries of our country and Thirty Shades of Taprobane, about our strange customs and beliefs.
Question: What is the most rewarding thing about being an author?
Answer: I guess it's the satisfaction of knowing that people are reading your books, appreciating them and benefitting from that knowledge. It's not so much the monetary benefit because that's peanuts compared to the opportunity cost, by which I mean the cost of foregoing other opportunities that come your way. I guess I have spent over three years on each of my four major works Zeylanica, Sarandib, Caste in Sri Lanka and IvillyPevilly. So that's a huge opportunity cost compared to the royalty of ten percent paid by the publisher. However, let's remember once you produce a book, you own the copyright meaning the right to publish and benefit from your book through subsequent editions, or even publish them in abridged form or put them on Amazon and so on. Such copyright lasts your entire lifetime and many more years from which your children could benefit. So I guess the monetary benefits are long term and lasting.
Question: What inspired you to write 'The Great Days of Colombo'?
Answer: Although I was born in Kandy, Colombo is where I was raised ever since my early childhood. Both my parental homes were in the old Colpetty area, my father's family home 'Darlington' in Alwis Place and my mother's family home 'Chitrangi' in General's Lake Road which had by then come to be regarded as part of Slave Island. This very happening childhood left a very lasting and favourable impression on me and my siblings though we later moved to Ratmalana.
But the actual inspiration for writing it came from a series of articles I did for Roar online magazine on the Big Five of Colombo- Fort, Slave Island, Colpetty, Bambalapitiya and Wellawatte which were very well received and shared countless times on social media. That made me think, what if I were to do a book on Colombo, a very big book really, something like the bumper book on Boxing my father used to have, a pictorial history of the sport really, with its striking yellow dust jacket. So now you know why 'The Great Days of Colombo' has a yellow cover. I had already decided on it when I started writing the book.
When it was over within a couple of years, the content including text and hundreds of photographs, maps, paintings and artists sketches and impressions came to over 800 pages and of course the printing of the work was going to be very costly. The publisher could of course not be expected to bear such a high cost and of course I already had in mind a company that could sponsor it, one whose story reflected the story of Colombo. That was Expolanka, whose CEO, the indefatigable HanifYusoofhad taken it to such great heights. He was very keen on the company making a meaningful contribution to our heritage and what better than sponsoring a work that focused on the heritage of the great city itself where that great company itself had its origins. His response was so positive that I did not have to look for any other sponsor.
Question: In a nutshell what is this book about? What can the readers expect?
Answer: It's all about Colombo, how it evolved from a minor port town to become the capital of Colombo under colonial rule. It also traces its history down the years from colonial rule to the World War II years and beyond. It also covers Colombo Port, Beira Lake and Galle Face as well as all zones of Colombo from Fort to Mutwal, how these areas became absorbed into Colombo, how these place names and street names originated, the older residences and businesses that emerged there and plentiful interesting happenings that took place over the years including historical events, wartime facts. Tales of horror and terror, mysteries and various forms of entertainment the city came to provide.In fact it takes an older generation on a walk down memory lane and even jogs their memories while giving much imagination to younger people how wonderful life must have been in those carefree days.
Question: What are some of the challenges you had to face when writing and publishing this book? How did you overcome them?
Answer: The first challenge to any aspiring writer would be to find a publisher willing to publish the work. I was very fortunate in this because my first printer (my first book was self-published) later took to publishing and offered to publish my books as well, which meant that they would print the books at their cost, promote it, market it, distribute it in bookshops etc and give me a royalty of 10 percent off the cover price for every book sold. Thus from the very beginning I had a very positive publisher in Neptune Publications headed by the enterprising Dinesh Kulatungewho was willing topublish any book I turned outand take the risk as well. All my books of course turned out to be successful fully vindicating that trust he had placed in me. In fact I would say it is the thought that there is a ready and willing publisher to publish your work that is the greatest incentive to keep on writing. In my case that has certainly been so.
Question: What are three pieces of advice you could give aspiring young authors?
Answer: The most important thing is to make your book fast selling. So you need to be very selective about the subject you choose to write about. You need to focus on something that has never been written about before, or if it has, you need to bring in fresh insights or cover it as comprehensively as possible. All my books have done this, but there are two which are actually the fastest selling, the Great Days of Colombo and Caste in Sri Lanka. Why that is so, you would have to ask the readers themselves, but my guess is that they have sentimental value and/orhave to do with one's roots and family heritage. People are still very much sentimental creatures at heart longing to delveinto the past, relive the good old times and search for their ultimate roots, wherever it be.
Another important thing to bear in mind is to make your contentappealing. To do this you have to have the reader in mind, what he or she would find engaging and appealing, and not what you think is important. Always bear in mind it is the reader you are writing for, not yourself.
Finally, make sure to find a publisher who is willing to give you a good deal and promote your book. There have been great books that have been rejected by conceited publishers having preconceived ideas of what a book should be like, but which later turned out to be best sellers because one good publisher recognized its worth and took a chance on it. Make sure you approach such a publisher, but for that you first have to produce a decent work.
Great Days of Colombo, the story of our bustling city!