National Maritime Museum
by ASIFF HUSSEIN
Sri Lanka being an island nation enjoys an intimate relationship with the vast expanse of sea that surrounds it. The sea protects it, gives it a salubrious climate, provides it with an ample supply of seafood and lures tourists to its shores.
As such it is only proper that we have a museum especially devoted to the sea – and we do. This is the little known National Maritime Museum established in 1992. Housed in the Great Dutch-built Warehouse of 1671 near the Old Gate of Galle Fort, the museum displays a variety of exhibits connected with sea-faring, maritime trade, fishing and sea-life.
There is however more to come. Shipwrecks with untold treasures lie in their watery graves off the ancient ports of call such as Galle, Mantai and Trincomalee. Galle itself is known to have over 20 maritime archaeological sites and action has been taken to salvage many of these treasures and conserve them in the museum, says Lieutenant Commander Somasiri Devendra, a Maritime Archaeologist who has been intimately associated with the museum since its early days. We can only hope that day is not too far off.
Of particular interest one would find the wheel of the first warship of the Sri Lanka Navy Vijaya commissioned on the 7th of October 1949 with Lt. Cdr. Rajan Kadirgammar in command. The ship, a Fleet Minesweeper of the Algerine Class was built by Redfern Construction Co. in Canada and was earlier used by the Royal Navy as HMS Flying Fish before being gifted by Britain to newly independent Ceylon's infant navy, then known as the Ceylon Royal Naval Volunteer Reserve as the Navy Act had not yet been passed by Parliament. The ship is said to have sailed on many memorable cruises besides performing operational and training duties for about 15 years until the cyclone of 1964 cast her adrift and aground.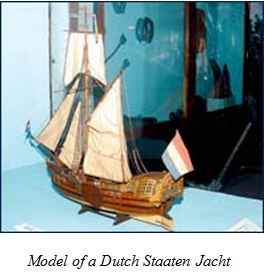 Among the other interesting exhibits, one would find the bridge of a ship, including the wheel and compass said to have belonged to a patrol craft. Besides these one would find a headlamp which is fixed at the top of the mast to indicate the presence and movement of the ship to others who may be in danger of crossing its path and an old Not-Under-Command lamp which is used as a signal to indicate that the ship is not under the command of the captain due to engine failure or some other mishap.
Boats and ships receiving this signal would know to give it a wide berth, which is to say, not come anywhere near it. One would also find here an assortment of old compasses as well as some old anchors though their date cannot be ascertained.
Outrigger canoe
Other interesting exhibits include an oruva or dug-out out-rigger canoe, a fishing vessel commonly used by Sinhalese fishermen from Chilaw to Hambantota.
The oruva is a fairly old water-craft and the earliest reference to it in Sinhalese literature occurs in the C.13th century Jataka Atuva Getapadaya which makes reference to an 'Ek dandu horuvak' (An oruva made of a single block of wood). The out-rigger canoe is also found in the coastal areas of Southern India, Malagasy, the Andaman Islands and the Polynesian, Melanesian and Micronesian region.
Indeed there are those who believe that the out-rigger had its origins in Polynesia or thereabouts before diffusing westwards to Sri Lanka and the other areas where it is presently found. The origins of the Sinhala term oruva itself is said to go back to the Malayo-Polynesian oru-u. Besides these one would find models of a variety of water-craft including the yatra-doni, Vallam and kattamaram.
The Yatra-doni, a large type of sailing vessel with outrigger attached was used by Sri Lankan sailors to sail India and the Maldive islands for trading purposes in the late 19th and early 20th century. The last of these named Amugoda Oruva sailed from Dodanduwa in the Southwestern coast of the island in the 1930s.
The vallam are basically canoes without the outrigger used by Tamil fishermen north of Chilaw while the kattamaram are log-rafts. The term kattamaram literally means 'cut tree' in Tamil and this is exactly what it is, a crude vessel made of logs. Interestingly enough, the English term catamaran derives from the Tamil kattamaram.
Also on display is a fine model of a Dutch Staaten Jacht donated by the city of Velsen in Holland which was recently 'twinned' with Galle. Such ships played an important role in the maritime trading activities of the Vereenigde Oost Indische Compagnie or Dutch East India Company which ruled Sri Lanka's maritime provinces during the 17th and 18th centuries.
Sea life
Besides these one would find a variety of items connected with the fishing industry.
Especially fascinating is a large diorama of a beach scene showing local fishermen pulling a ma-del or seine net from the sea. Also displayed are a variety of items connected with seine fishing including the rope and the net whose eyes we are told gradually get smaller. Besides these one would find an atanguva or hand net and a traditional fisherman's lamp as well as some stone tools used in boat making.
A special panel also tells us of the rituals in existence among local fishermen. We are told for instance that these fisherfolk believe that their activities would be successful by the power of Upulvan and Kataragama and that they make annual offerings to these deities. We are also told that getting a sea horse in one's catch is considered a good omen and that this sea horse is taken in the boat whenever they go fishing. Such practices, being restricted to the island's fishing community, are not usually known to ordinary folk.
Finally we come to sea life and here one would find the skeleton of a mada kesbewa or Green Turtle (Chelonia mydas) and stuffed sea birds such as the South Polar Skua (vulumbuva) and the Eastern Rosette Tern (muhudu lihiniya).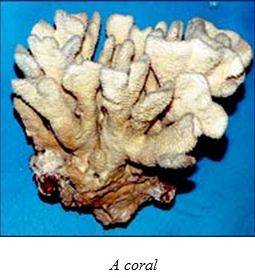 One would also come across fibreglass models of dugong, dolphin and whales such as the Blue Whale, Humpback whale and Bryde's whale. Last but not least may be noticed the fine collection of corals and shells including the common cowry, Xencus phyrum, Conus Sp. Murex Sp. Nautilus Sp. Telescopeium Sp.and Bushy Corn Sp.
A coral