By ASIFF HUSSEIN
A museum especially dedicated to preserving the heritage of the Sri Lankan Muslims has been a long felt need, especially in a context where artefacts connected with the culture and lifestyle of the local Muslims are hardly if ever represented in other national museums including the Colombo Museum.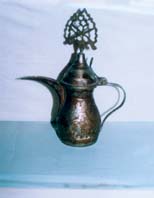 The Muslim Cultural Museum established by the South Eastern University of Sri Lanka in June 2001 today serves not only to preserve the historical and cultural items of the Sri Lankan Muslims, particularly those of the East, but also to create an awareness of the rich cultural heritage of the community, especially among the younger generation.
Located at Meenodaikattu, Addalaichenai on the Kalmunai-Akkaraipattu Road in Amparai district, the Cultural Museum houses a large collection of exhibits including ola leaf manuscripts, domestic utensils, dress and jewellery and other items connected with the social and economic life of the Muslims of the past. Many such items are hardly if ever used nowadays and provide us an insight into the folk life of the Muslims as they lived it then.
Religious life
The muslims of Sri Lanka and especially those of the East are a deeply religious community and it is only natural therefore that their religious life should be given the prominence it deserves in any institution devoted to preserving their heritage. For instance one would find here a good collection of Qur'ans in both manuscript and printed form, some said to date back to the early nineteenth century.
These include a miniature Qur'an of about an inch or less said to date to 1800. Many of these Qur'ans are protected by toiled leather cases suggesting that they are fairly old. In addition to these one would find other works of a religious nature including an old 1832 manuscript of the Kappal Pattu or 'Ship song' said to have formed part of the Mawsook Malai still sung by the faqirs or singing mendicants of Thakiya Nagar in Akkaraipattu.
Besides these one would find a few specimens of palmyra leaf books, mainly medical and magical works in use in the 18th or 19th century. These include a Vaittiya Kaiyadu or Medical Handbook of Sinnat Tambi Parisari, evidently a native Muslim physician and a Vaittiya Asma Maranda Kaiyadu of Muhamad Tambi son of Sikkandar Vattani of Akkaraipattu containing magical incantations to cure various ailments. One would also find various mandirangal or magical spell books in use in the olden days.
Arab origin
Here one would also find a good collection of saris worn by the Muslim women of yore. These include a soman sari in yellow, brown and white, mohinipattu sari with red, green and purple vertical lines against a yellow background and a karikappan sari with motifs such as drop etc in white against a black background. Also displayed is a rare purple velvet jacket embroidered at the borders about 50 years old meant for wearing with a kurai podavai or bridal sari. The Muslim women of the Eastern Province are said to have formerly worn such jackets on their wedding day.
There is also an exhibit of a coloured checked sarong said to have been worn by a Muslim bridegroom sometime during the 19th century, an old mappillai salvai worn by the bridegroom on the wedding day and a Sippi Saruwal or pair of trousers in green.
The Siruwal, a loose kind of trousers covering the knees were commonly worn by the Muslim farmers of the Amparai district in the olden days. They are evidently of Arab origin and derive from the Arabic Sirwal which initially meant the underdrawers worn by both men and women of the Prophet's time, but later came to denote drawers and pantaloons which appear to have caught on among the Arabs as a result of Persian influence. One would also come across a good collection of Iduppu Var or leather waist belts worn with the sarong to keep it in place.
These have special features to keep money in and to stick knives and dirks. Besides these one would find an assortment of Turukki or Turkish caps in black and elaborate red fezs with black tassles. These headgear worn by local Muslims since the latter part of the 19th century seem to have been an introduction from Ottoman Turkey and its Arab dependencies.
Also noteworthy is a pair of midiyadi kattai or pair of sandals with wooden soles and leather straps worn by the Muslims of yore. These are hardly if ever worn nowadays though they are said to have been commonly worn until about the 1960s before gradually going out of use in the 1970s or thereabouts.
Besides these one would find a variety of jewellery worn by Muslim women in the olden days including modiram or silver rings, silamba or silver anklets and padasaram or silver foot bells worn on the upper surface of the feet which tinkled when the women walked. Also of interest are the display of araimudi, little bo-leaf-shaped ornaments made of silver or gold which were formerly used to cover the private parts of little girls. These were evidently worn suspended by a string at the waist and are said to have been in use until about the 1960s or 1970s before gradually dying out.
Bridal thrones
Also on display are a variety of items connected with the social life of the country's Muslims. These include sevarakkal or bridal thrones comprising low copper seats for the bride and groom to sit on in use in the 19th century and a kattup-petti made of cane with which the bridegrooms of former times sent their brides ornaments and other items as a gift. Besides these one would find a few pannir sembu or rose-water sprinklers which still figure in the marriage ceremonies of local Muslims.
There is also a splendid collection of pingan or plates designed with crescent, flowers etc, some of which are said to be over a century old. These include a sahan pingan adorned with flowers of red and yellow said to have been used for wedding feasts. Also noteworthy are the tanni vatti or water containers used to serve water to guests during weddings over hundred years ago and the koppi kuvalai or coffee cups from Marudamunai.
Then of course there are the pan tattu or palm leaf plates coloured in the green,brown and purple peculiar to the area, a samburani chatti or benjamin fumer made of brass for burning incense and surma kudu or surma containers used for applying kohl to the eyelashes, a common practice among Muslim women, especially in the olden days.
Other interesting exhibits include an ahal vilakku or storm lamp used in the olden days for reading the Qur'an at night. The rear was backed by an ornamental plate so that the flame would not flutter or go out during gusts of wind. Also interesting is a specimen of a mandirap-petti or spell-box. Those who believed in pudam or spirits infesting paddy fields would have magical spells cast on these boxes with a view to preventing such spirits pilfering their harvest. Finally one must mention the fine collection of old locks and keys used to secure houses and shops about a century or so ago and the assortment of deer horns used as wall decorations and as handy frames to hang dresses in the olden days.