by ASIFF HUSSEIN
The Sri Lanka Air Force is the youngest of the three armed services and was established only in 1949 subsequent to the Ceylon Army and the Royal Ceylon Navy though the exact date of its formation is taken as 3rd March 1951 when Air Commodore G.C. Bladen of the Royal Air Force was appointed its first Commander.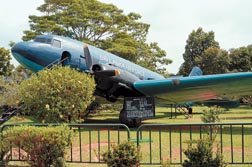 It was then known as the Royal Ceylon Air Force and it was only on May 22, 1972 when Sri Lanka became a Republic that its name was changed to Sri Lanka Air Force.
In spite of its short history the Air Force has its own museum, the Sri Lanka Air Force Museum situated at the SLAF Base, Ratmalana which houses one of the largest collection of military artefacts anywhere in the country, if not for anything else the sheer bulk of its aircraft which occupy a good part of the museum.
Many of these artefacts if we may so term them were preserved at the Sri Lanka Air Force Base at Katunayake before the idea of a museum was mooted by Air Vice Marshal W.D.H.S.W. Goonetileke, SLAF Commander from 1976-1981.
The Air Force Museum is however a museum with a difference. It is housed in four hangars including the main hangar which contains some vintage aircraft as well as three others containing lighter planes, helicopters, heavy vehicles, electronic equipment, firearms, bombs, uniforms, badges, medals and a variety of other insignia and memorabilia.
Vintage aircraft
Among the aircraft displayed in the main hangar, one would find some particularly old aeroplanes including a rare De Havilland 82 Tiger Moth which was one of the earliest aircraft to be flown in Sri Lanka.
It was initially owned by the Civil Aviation Authority of Ceylon before being acquired in 1982 by the SLAF who restored it and flew it in 1988 showing that some old aircraft are still remarkably airworthy. Besides this is a fine Chipmunk TMK 10, a twin-seater fully aerobatic aircraft manufactured in the UK in 1949.
A total of 12 such aircraft were delivered to the Royal Ceylon Air Force in 1953 and many were used as trainer craft before being withdrawn from service and displayed in the museum. Four more such planes in mint condition are displayed in another hangar bearing testimony to their hardy character.
Besides these one would find a Douglas DC 3 Dakota, a powerful workhorse of the Second World War which though originally intended as a cargo and passenger plane was also used for military applications.
The aircraft on display was manufactured in 1943 and was acquired by the SLAF from Air Ceylon in 1975 for the transport of military personnel. It was used in the Eelam War before being retired from service in 1986. Other notable aircraft include an MK 3A Hunting Percival Jet manufactured in the UK which has the distinction of being the first jet aircraft to enter service with the Royal Ceylon Air Force. It served from 1959 until 1979 and played a role during the 1971 JVP insurgency.
The same could be said of the Mikoyan Gourevich MIG acquired by the Royal Ceylon Air Force from the USSR during the 1971 insurgency. Soviet-built militaryware saw service with Sri Lanka's armed forces during the premiership of Sirimavo Dias Bandaranaike and the Mikoyan Gourevich among other artefacts preserved in the museum bears testimony to this.
Also interesting though from a national rather than a historical perspective is the Pazmany PL 2, the SLAF's very own locally manufactured aircraft. The project began in earnest in 1977 with the maiden test flight successfully taking place in April 1980.
The plane has since participated in a number of air shows. Besides these one would find a few planes displayed in the openair outside of the main hangar including another Dakota DC 3 and the Italian-made Siamarchetti SL 260 and Warrior SF 260, not to mention the four more Chipmunk TMK 10s displayed in Hangar Number One where one would also come across a good collection of firearms including signal pistols, Sterling sub-machine guns and Sten Carbine machine guns used by the SLAF.
Rich Collection
A good collection of old helicopters could be found in Hangar Number Two. These include a Westland Sikorsky S 51 Dragonfly developed in the UK for military observation and rescue missions.
It has the distinction of being the first helicopter to enter service with the Royal Ceylon Air Force and was in use from 1956 to 1969. Besides this one would find a US-made Bell 47 G2 helicopter in service with the Air Force from 1971-1981 and a Soviet-built KAMOV 26 helicopter in service with the Air Force from 1971-1978 as a VIP transport craft. Its unique feature was the presence of contra rotating rotors and the absence of the tail rotor found in conventional helicopters. Its peculiar shape earned it the nickname 'Ice Cream Van'.
Besides these one would find the parts of a crashed WW II aircraft recovered from a paddy field at Hingurakgoda, bearing testimony to the days when Sri Lanka was a British colony and earned the wrath of the Japanese Imperial Forces culminating in an aerial bombing campaign at the hight of the war in 1942. The parts recovered from the wreckage include a helmet, radio set, control cable, switch panel, assembly unit, electric motor, blower fan motor and air bottle.
However it is the rich collection of artefacts associated with the Air Force since its early beginnings that makes the museum particularly interesting. Take for instance the SLAF's first telephone exchange panel, a PABX System used at China Bay SLAF Base.
Besides this one would come across two antiquated non-dialing telephones, a NIV 15 radio set used in Royal Ceylon Air Force messes in 1963 and a variety of outdated electronic equipment including radio receivers and radar display units, a radio transmitter, a Collins transceiver and VF telegraph.
Other noteworthy memorabilia include a collection of old clocks used by the Air Force from 1949 to 1957 including a Smiths Astral clock used by the RAF in 1949. Also interesting is a Christmas Day 1952 Dinner Card Menu of the Royal Air Force, Negombo. The menu offers roast turkey and chippolatas, fried fillet of seer with mushroom and butter sauce, minced pies and Christmas pudding.
We next come to uniforms and insignia and here one would find the ceremonial dress of the first Commander of the SLAF Air Vice Marshal E.R. Amarasekara with a variety of medals including the George VI GBR OMN REX ET INDIA and the Coronation Medal of Queen Elizabeth II.
One would also find a variety of SLAF rank badges including a badge depicting a lion, eagle and Dharmachakra worn on the peak cap of the Air Force Commander and flying badges depicting wings and Dharmachakra worn by SLAF pilots. Also on display are a variety of medals including the Rana Shura Padakkama and the Rana Vikrama Padakkama awarded to SLAF men who have displayed extraordinary bravery in the performance of their duties.
Also particularly interesting is the fine collection of Air Force uniforms donned by manikins. These show the evolution of the dress code of officers and airmen from the early days of the Air Force. Here one would come across some beige RAF uniforms including Regimental Ceremonial Tunic and Senior Non-Commissioned Officer's attire worn in 1947 besides an Airman's Mess Kit of 1951 with white shirt, grey trouser and black peak cap, a Regimental Tunic of 1971 and a camoflaged Commando Kit with metal helmet of 1980.
Heavy vehicles
We proceed next to Hangar Number Three and here we would come across a variety of heavy vehicles used by the SLAF.
Among the old trucks, one would find a Mobile Electric Power Unit, Aircraft Hydraulic Test Unit, an Oxigen Charging Mounting and a High Pressure Dry Air Storage Truck, all manufactured in the USSR and used by the Air Force from 1971 to 1990.
Besides these one would find an Austin Fire Fighting Vehicle manufactured in Britain which was used by the Air Force from 1956-83 and a Shortland Armoured Patrol Car of Irish origin also used by the Air Force.
We next come to the arms and bombs attached to warplanes and beholding these weapons of destruction one cannot help but shudder at the thought of war and the death and destruction it brings in its wake. Here indeed lies the manifestly ugly side of war.
Take for instance the GR 1000 bomb manufactured at the General Engineering Wing, Katunayake. This massive bomb with an explosive content of gelignite and PE 3 weighs a total of 1000 pounds.
A similar weapon, the GR 500 also manufactured at Katunayake weighs a full 500 pounds. There is also a GR 75, a rather crude bomb comprising of a huge barrel containing gelignite with metal wings to facilitate movement through the air when dropped from a warplane. Also on display is a BABA Mortar used by LTTE personnel for ground operations in 1983.
This tadpole-like weapon recovered by the SLAF is over three feet in length and comprises of a head filled with TNT and a fan to propel it to its target. Besides these one would find a variety of machine guns that could be attached to aircraft for purposes of air offensive. These include a 37 mm machine gun manufactured in Soviet Russia which could be installed in MIG jets and a M3 machine gun of Belgian manufacture which could be installed on a Bell 206 helicopter.